DigiKam is a free, open-source package for Linux, windows and macOS. It has strong digital asset management and a comprehensive processing workflow. It has powerful RAW file editing and a non-destructive workflow (edits are saved in a database). It supports a huge range of file formats. There is extensive documentation at the DigiKam website. Below are some screen shots to give you a feel for the program.
Some links to reviews are at the bottom (not all are for the latest version). My impression is that this free program provides a lot of power. It isn't a slick or as fast as Lightroom, but it offers a huge array of features, notably in digital asset management (cataloging, metadata editing, organising, searching etc) that is lacking in most image processing software. And it is free, so costs nothing to try it out.
DigiKam's main screen. Tabs at the left allow you to view the folder structure, ratings, keywords/tags, a timeline, advanced search functions, image similarity (great for winnowing duplicates or near duplicates), maps/geolocation, and people indexing (it can search images for faces and if you give names to faces, it will try to find similar faces in other photos, allowing you to search for specific people, once you have identified that person in photos).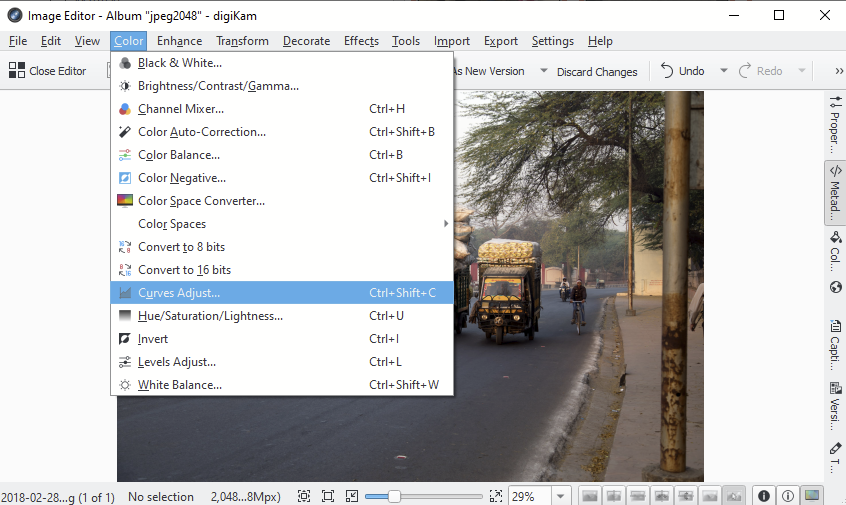 The tools tab gives access to a lot of functionality including links to the image editor, tag manager, batch manager, a light table (good for sorting images, comparing images side by side, rating, tagging etc). Post processing tools include image stacking (HDR, focus stack), generation of calendars, web galleries etc. Export tools allow you to export to local storage or a range of online systems. You can also import images from your SmugMug or Google galleries, or from a scanner.
Some Reviews