A triptych is a work of art divided into 3 sections. This approach allows the creator to tell a story that would be difficult with just a single panel. Below is a fine example: The three panels of the triptych tell a powerful story of a free selector, a farmer who has chosen some land to clear and farm, and his family. You can apply the same approach to story telling using your photographic images. You might want to show a story through time (as below) or place, or the development of an artistic image using 3 different variations … the options are endless so use your imagination.
Tim Keane has made a basic introduction to creating a Triptych that you can download HERE. This guide is based on Photoshop/Photoshop Elements but the general principles apply whichever software you use (so long as the software allows combining multiple images into one). I have made some alternative instructions HERE based on Lightroom (easy) and on Photoshop (a bit more challenging). If you use other software, you may need to adapt these approaches, or seek alternative resources online.
Using Photoshop or equivalent is the most powerful way to make a Triptych, but if you don't have access to suitable software, you can even use presentation software such as Libre Office Impress (free) or Microsoft Powerpoint (part of the MS Office suite). These packages give you a great deal of flexibility in placing, shaping and aligning images. Afterwards, you can export to JPEG at high resolution. Since these programs are based on units of pages, you will probably need to open their output in a photo editing program and crop the unused parts of the page layout to get the final output.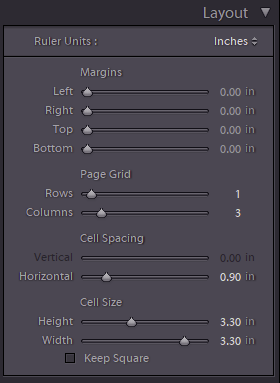 If you use Lightroom, you can use the PRINT module to generate your layout. In the Gallery module select 3 images (you can set up a collection to contain your images so they are all in one place). Then switch to the PRINT module. Set the page size appropriate for your needs (menu: File >> Page Setup). You can choose from a range of pre-defined page sizes, or choose a PDF custom page size, that you can define in the PDF print setup dialog. Then, in the Layout Style (right hand column) choose Single Image/Contact Sheet. In Layout choose page grid 1 row, 3 columns. Adjust the cell size to suit (unclick the Keep Square box if it is ticked), or drag the guides on the central page layout panel. If you want the separate panels to be outlined, say in black, check the Stroke Border setting in the Image Settings panel. Check the PrintJob panel (bottom on right) says Print to: JPEG File. Then choose File >> Print to output the JPEG file. You may need to resize this, depending on the settings and sizes on the layout. If you set File Resolution to a high number you will have plenty of pixels so you don't lose quality in a later resize. If you want to make a layout with unequal sized panels for you images, you will have to use the Custom Package in the Layout Style, and then add and resize the components individually. You can save your layout as a template. In the Template Browser, click the PLUS sign to add a new template with your current settings.
With Photoshop you can easily create triptych layouts with the images in layers, and using masks and layout guides (menu: View >> New Guide Layout) to assist with layouts. There are many instructional guides on the web. Here are a few: